Baking Machine Overview
Highlight Features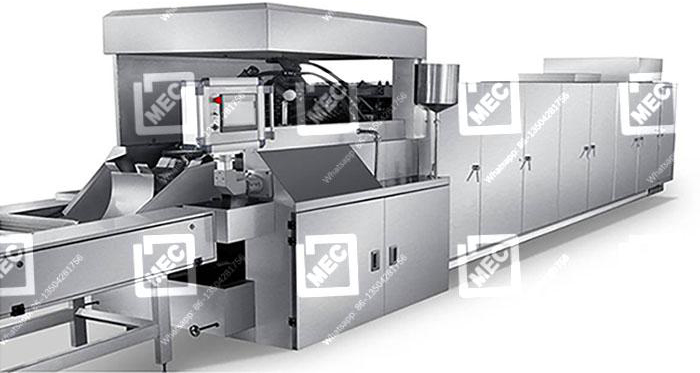 · High output and flexibility
MEC wafer production line is designed for the large-scale industrial production of FLAT WAFER and MOULDED WAFER with high quality standards, which can be applied widely in ice cream and confectionery industry.
· User-friendly machine line
Machine operation synchronized by PLC control, hence 2 operators can run the machine during all phases of production.
· Technology achieves highest performance with lowest consumption
Compact machine design prevents heat loss.
· Built for minimum downtime
The oven is built to withstand heat and compensate thermal expansion during operation. This reduces downtimes caused by maintenance. Easy access for maintenance is possible in the oven rear and on the sides.

Machine Details
· Automatic Baking Oven:
The oven consists of a robust steel frame with running rails for a smooth baking chain available with the extremely robust baking tongs running and revolving in the oven. Baking plates are made of special alloy casting iron with a high-tensile structure, which ensures excellent thermal conductivity and good heat accumulation. Every baking plate is supported by the extremely rugged and solid tong frame. Auto tensioning system for the tong chain which holds the baking plates. Rollers of baking tongs are equipped with thermally stabilized bearings. Baking tong wear-resistant locking system makes sure a safe operation and product molding.
· Efficient Heating System:
Machine with even and efficient LPG / Natural gas heating or electric heating. The adjustable burners optimize heat distribution in the baking chamber. This helps achieve a uniform wafer product color and even moisture distribution. The automatic power level control is used for controlling the temperature of the baking plates and adjust air flow and gas mix according to the required heating energy. All panel doors are made of SS304 and insulated with high temperature-resistant materials which will minimize energy consumption.
· Machine Flexibility:
MEC High-performance wafer baking machines serve the fully automatic production of flat and hollow wafer sheets. Baking plates for the production of flat wafers are manufactured with fine, medium or deep pattern in a variety of shapes and sizes, as well as with company logo or special engraving if required. For the production of wafers in the shape, like wafer balls or wafer cone, the baking plates offer a huge range of designs.